Cardio Multivitamin Veg 60 Capsules
£

27.00 On Sale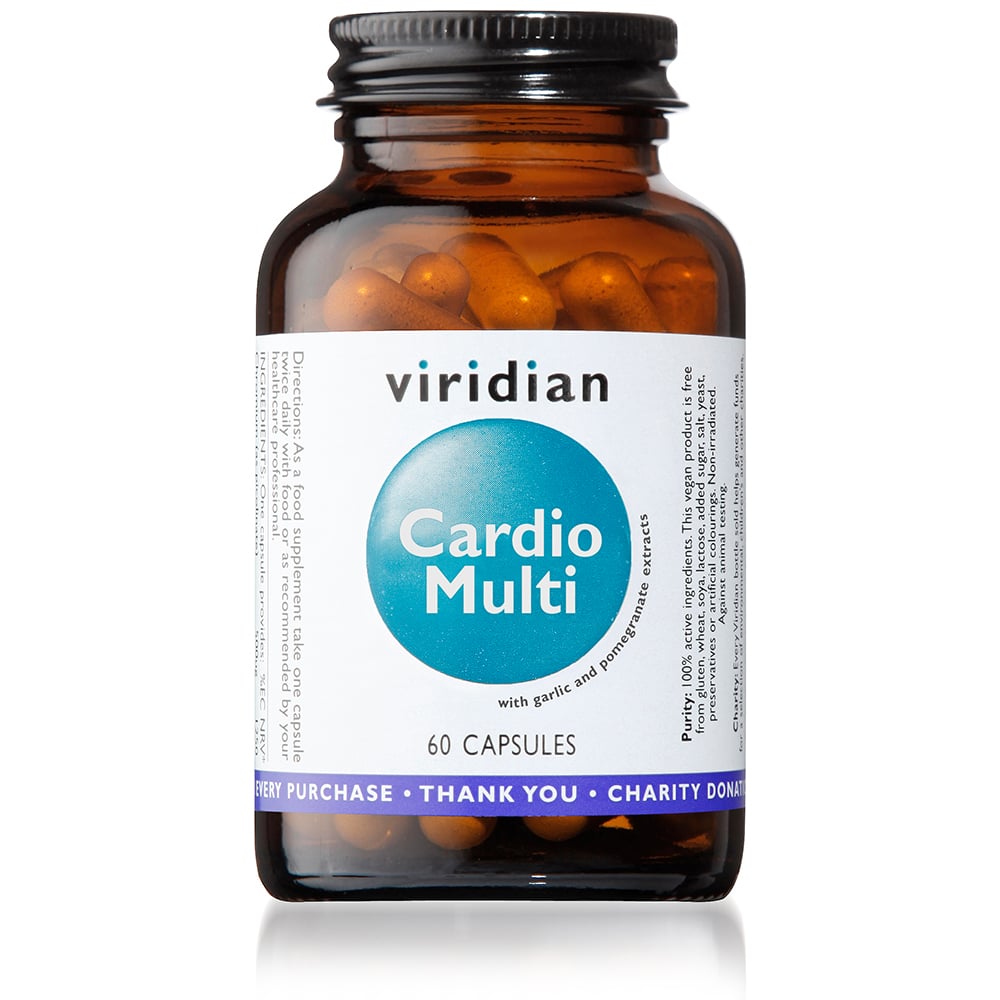 A specific formulation featuring a blend of supportive vitamins, minerals and phytonutrients to promote cardiovascular health and function. The carefully-selected ingredients in this multivitamin and mineral complex have been scientifically studied with regards to improving blood lipid profiles, promoting endothelial health and maintaining vascular function. May be recommended daily to support overall cardiovascular health, in conjunction with a personalised supplement programme, a healthy balanced diet and exercise.
Directions:
As a food supplement take 2 capsules daily or as recommended by your healthcare professional.
Ingredients:
Magnesium (as citrate and ascorbate) 20mg 5
Pomergranate (Punica granatum) extract (40% Ellagic acid) 100mg
Garlic (Allium sativum) extract (4.5% Alliin) 100mg
Vitamin B5 (as calcium d-pantothenate) 80mg 1333
Natural Beta Carotene/Carotenoid Mix (Dunaliella salina) 5mg
Providing (typical analysis):
Beta carotene
4.5mg
Cryptoxanthin
39ug
Alpha carotene
158ug
Zeaxanthin
32ug
Lutein
25ug
Vitamin E (D-Alpha Tocopherol Succinate) (50iu) 34mg 283
Calcium (as ascorbate) 5mg 0.6
Vitamin B1 (as thiamine HCl) 25mg 2273
Potassium (citrate) 10mg 0.5
Vitamin B3 (as nicotinamide) 25mg 156
Vitamin B2 (as riboflavin) 25mg 1786
Vitamin B6 (as pyridoxine HCl) 20mg 1429
Selenium (as methionine) 100ug 182
Vitamin K2 (MK-7) 40ug 53
Co-enzyme Q10 20mg
Zinc (as citrate) 5mg 50
Choline (as bitartrate) 5mg
Boron (as sodium borate) 1mg
Iron (as bisglycinate) 1mg
Inositol 5mg
Vitamin D3 (Vegan) (400iu) 10ug 200
Manganese (as citrate) 1mg 50
Copper (as citrate) 1mg 100
Chromium (as picolinate) 50ug 125
Folic acid 200ug 100
Molybdenum 50ug 100
Iodine (from Kelp and potassium iodide) 150ug 100
Biotin 50ug 100
Vitamin B12 (as adenosylcobalamin and methylcobalamin) 100ug 4000
Delivery:
Up to 7 days.
Returns:
14 days refund, buyer pays return postage.
Has to be in same condition as delivered in.
If item is damaged on delivery please contact farnhamwholefoods@gmail.com.
Share