Essential Female Multi Veg 60 Capsules
£

29.60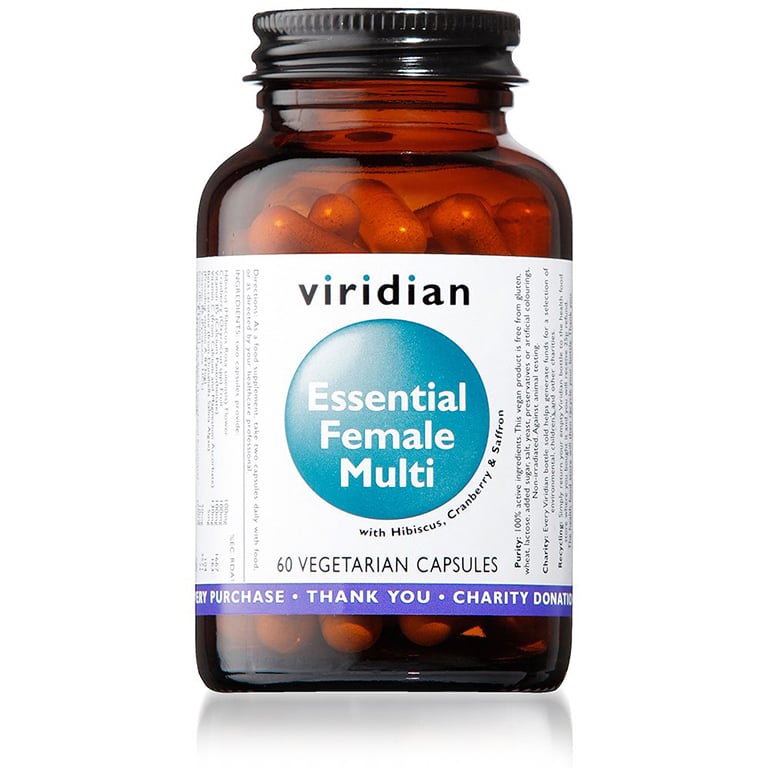 Formulated specifically for the needs of the 18-39 age group. Iron contributes to the reduction of tiredness and fatigue, supports normal cognitive function, the formation of red blood cells and the immune system. B6 contributes to the regulation of hormone activity. A unique blend of high quality nutrients and botanical extracts to move beyond a basic multivitamin and support optimal health and vitality.
Directions:
As a food supplement, take two capsules daily with food, or as directed by your healthcare professional.
Ingredients:
Hibiscus (Hibiscus Rosa sinensis) Flower (20% total acids) 100mg
Cranberry (Oxycoccus spp) Fruit 100mg
Vitamin B5 (Calcium Pantothenate) 100mg
Vitamin C (from Calcium and Magnesium Ascorbate) 130mg
Beta-carotene (from Dunaliella Salina Algae) 5mg
Vitamin B6 (Pyridoxine HCL)
50mg Iron (Bisglycinate)
10mg Vitamin E Natural (D-Alpha Tocopherol Succinate) (50IU)
Siberian (E. senticosus) Ginseng Extract (25:1)
40mg Vitamin B1 (Thiamine HCL)
25mg Zinc (Citrate)
10mg Vitamin B2 (Riboflavin)
25mg Vitamin B3 (Nicotinamide)
25mg Saffron (C. sativus) Extract (0.3% Safranal)
20mg Potassium (Citrate)
10mg Magnesium (Ascorbate and citrate)
20mg Horsetail (Equisetum arvense) Extract (4:1) (2% Silica)
15mg Choline (Bitartrate)
5mg Selenium (Methionine)
55µg Co Enzyme Q10
10mg Calcium (Ascorbate and citrate)
10mg Inositol
5mg Boron (as Sodium Borate)
10µg Vitamin D3 (Vitashine™)
10µg Manganese (Citrate)
1mg Copper (Citrate)
1mg Chromium (Picolinate)
100µg Vitamin K1
20µg Folacin (Folic Acid)
400µg Iodine (from Seagreens® kelp and potassium iodide )
150ug Molybdenum (Ammonium Molybdate)
50µg Biotin
50µg Vitamin B12 (Methylcobalamin )
20µg In a base of alfalfa, spirulina and bilberry"
Delivery:
Up to 7 days.
Returns:
14 days refund, buyer pays return postage.
Has to be in same condition as delivered in.
If item is damaged on delivery please contact farnhamwholefoods@gmail.com.
Share