HIGH FIVE™ Multivitamin & Mineral Formula Veg Caps
£

8.95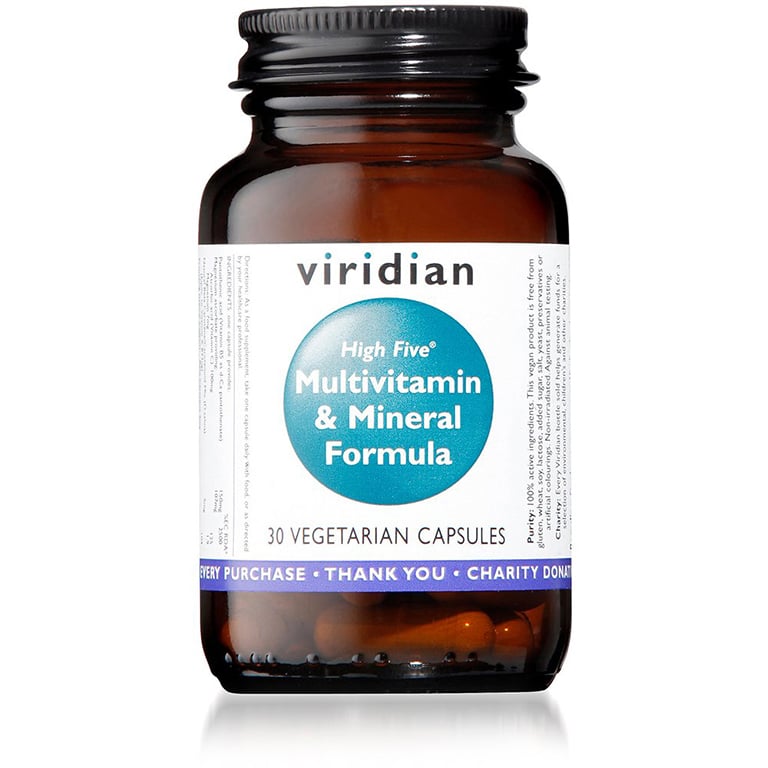 One-a-day best-selling multivitamin and mineral from Viridian Nutrition. The 'High Five' refers to the higher level of Vitamin B5 (pantothenic acid) found in this formula. Vitamin B5 contributes to normal mental performance and a reduction in tiredness and fatigue. Vitamin B5 also contributes to the normal synthesis and metabolism of steroid hormones, vitamin D and some neurotransmitters. Features buffered vitamin C, natural source vitamin E, vegan vitamin D, natural source carotenoids, balanced B-complex, fully-reacted chelated minerals including Selenium, Chromium, Iron and Zinc, Selenium contributes to normal maintenance of hair and nails, the normal function of the immune system, normal thyroid function and for the protection of cells from oxidative stress. This 'oxidative stress' appears to be a major factor in many human diseases. Chromium contributes to the maintenance of normal blood glucose levels. Iron is essential for the healthy production of haemoglobin and red blood cells. This formula contains iron bisglycinate, a form of iron that is gentle on the digestive system. Iron contributes to the reduction of tiredness and fatigue and contributes to normal cognitive function. Zinc is a mineral essential to many body processes including the maintenance of normal cognitive function, vision, fertility and reproduction, hair, skin and nails and the immune system. Zinc also contributes to the normal metabolism of fatty acids and macronutrients. This formula is copper-free.
Directions:
As a food supplement, take one capsule daily with food, or as directed by your healthcare professional.
Ingredients:
Pantothenic acid (Vitamin B5 as d-Ca pantothenate) 150mg
Vitamin C (from magnesium ascorbate) 100mg
Natural Beta Carotene/Carotenoid Mix (Dunaliella salina) 5mg
Equiv. to Vitamin A 833ug
Niacin (Vitamin B3 as Niacinamide) 50mg
Iodine (from organic kelp) 25ug
Calcium (citrate) 10mg
Magnesium (from citrate and ascorbate) 12mg
Vitamin B6(pyridoxine HCI)25mg
Thiamin (Vitamin B1 as thiamine mononitrate) 25mg
Riboflavin (Vitamin B2) 25mg
Grape seed extract (95% proanthocyanidin) 20mg
Zinc (citrate) 5mg
Selenium (L-selenomethionine) 50ug
Potassium (citrate) 2mg
Choline (bitartrate) 2mg
Inositol 5mg
Iron (bisglycinate) 1mg
Boron (sodium borate) 500ug
Vitamin D3 (400iu) 10ug
Folic acid 200ug
Chromium (picolinate) 50ug
Vitamin B12 (Adenocobalamin and Methylcobalamin) 50g
Biotin 50ug
in a base of alfalfa, spirulina and bilberry
Delivery:
Up to 7 days.
Returns:
14 days refund, buyer pays return postage.
Has to be in same condition as delivered in.
If item is damaged on delivery please contact farnhamwholefoods@gmail.com.
Share